Woman Life Freedom
Poster supporting the movement for
freedom of women of Iran.
Woman Life Freedom
Poster supporting the movement for freedom of women of Iran.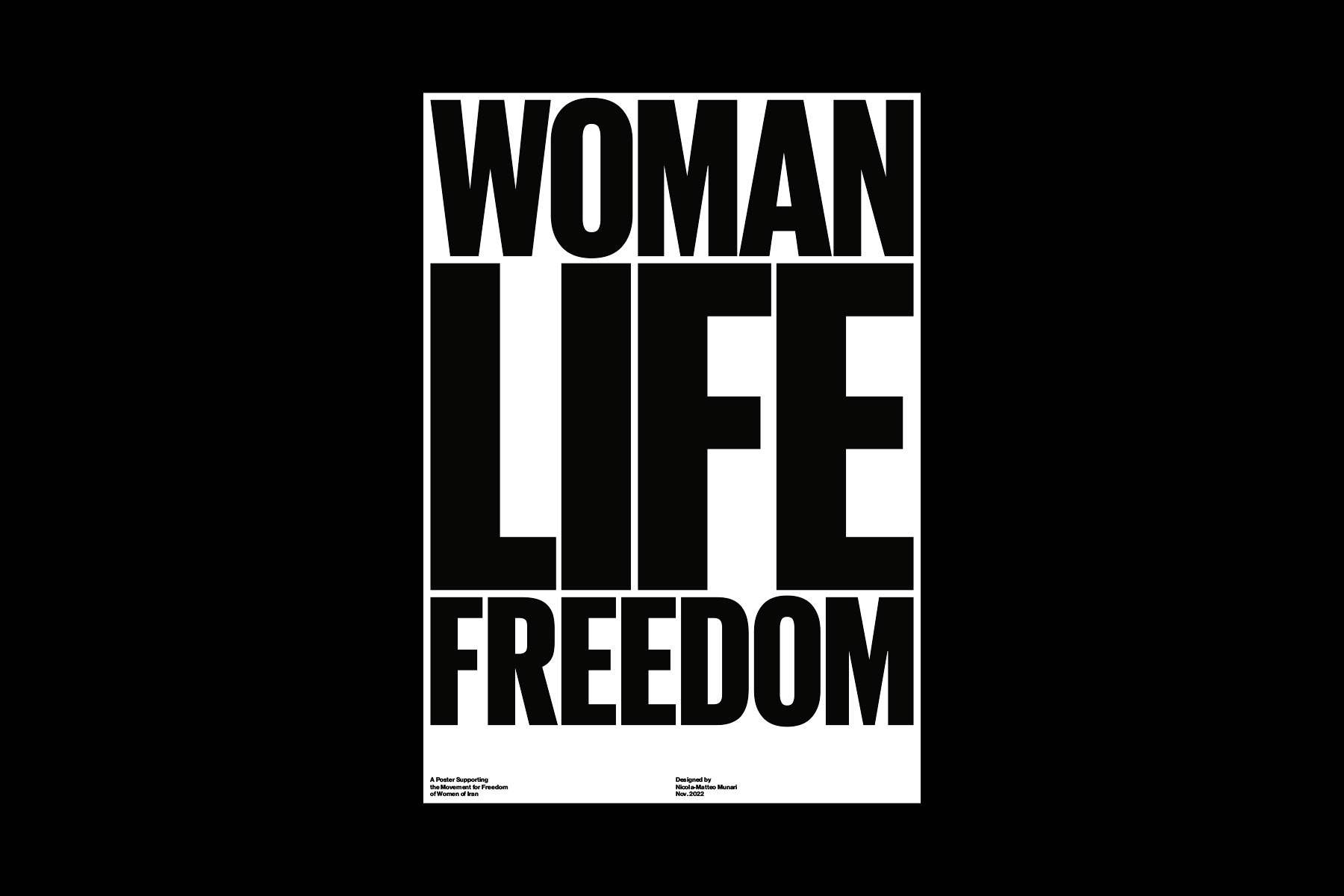 Woman Life Freedom
Poster, 100×70 cm
2022 © Nicola-Matteo Munari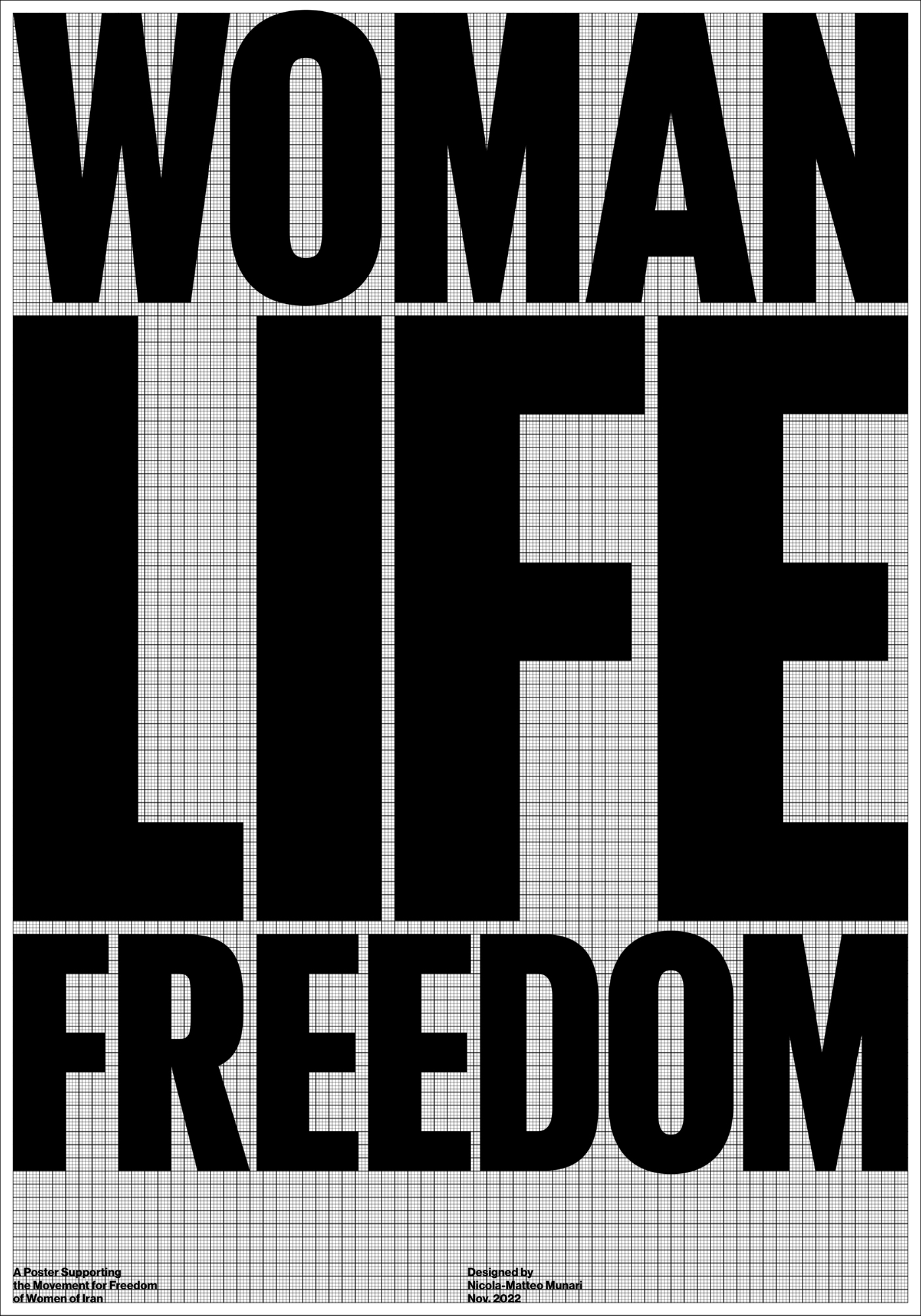 The construction grid of the poster
is made up of 112.000 micro-modules, each with a side of 0,25 mm.
2022 © Nicola-Matteo Munari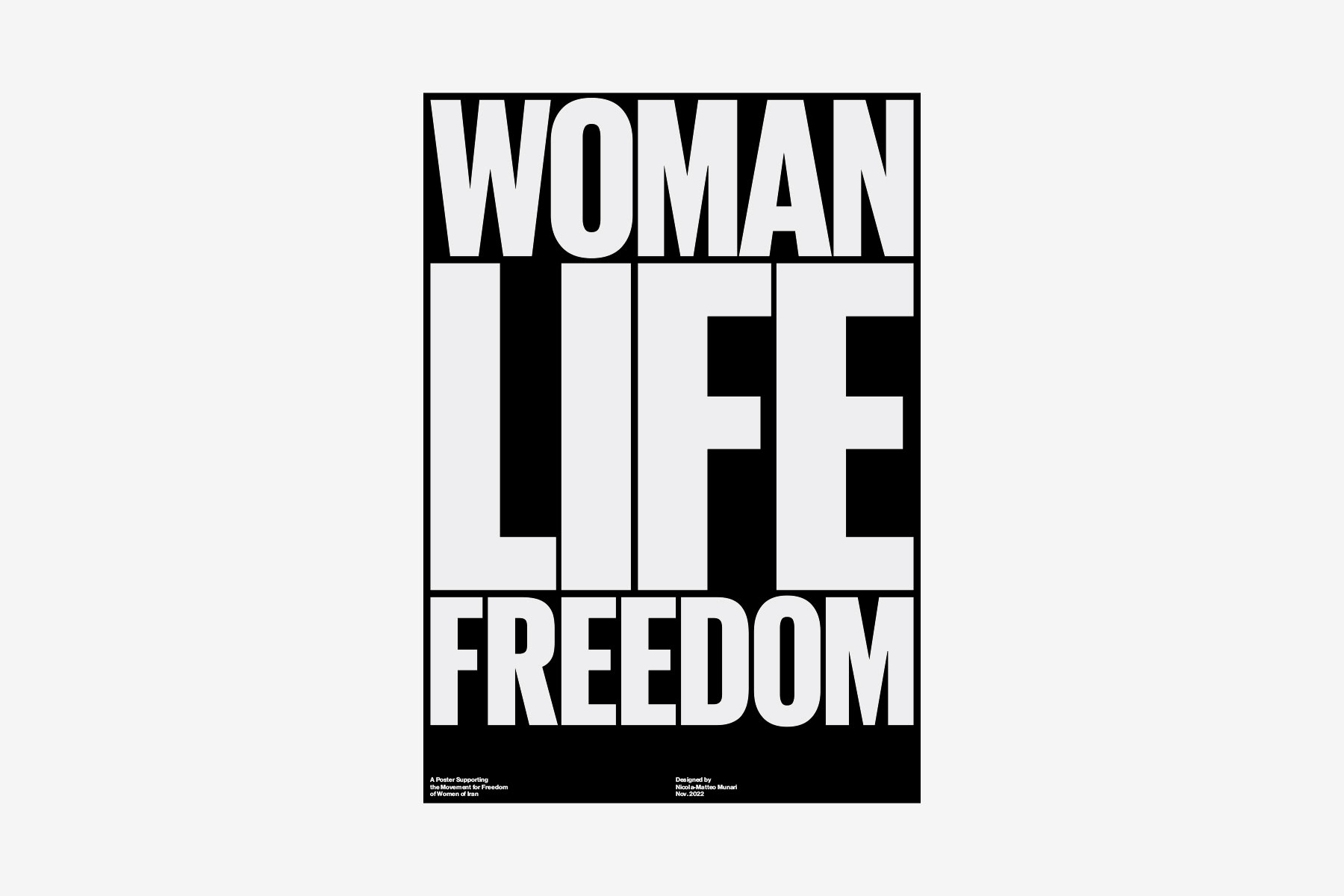 Reverse coloured version
of the poster.
2022 © Nicola-Matteo Munari
In Autumn 2022 I have been officially invited to support Woman,Life,Freedom—the movement for the liberation of women of Iran—by contributing with a poster that is intended to be displayed in a collective exhibition with those submitted by other designers.
Many important artists, painters, illustrators, and graphic designers from all other the world participated in the project, including Armando Milani, Shin Matsunaga, Michael Vanderbyl, Isidro Ferrer, Leonardo Sonnoli, Mervyn Kurlansky, and Niklaus Troxler. In this way, a single, powerful statement, expressed through many different voices, has been boldly raised in support of civil rights and against tyranny.
After taking into consideration various ideas that were related to the most symbolic images of the fight for freedom in Iran, I have decided to design a typographical poster—without any illustration or photograph—in order to focus on the message itself to be communicated.
To design the poster, I have researched the history of graphic design and in particular that of posters that were designed to promote peace and freedom, choosing as an emblematic example the one conceived in 1969 by John Lennon and Yoko Ono—War is Over!—without copying it or simply changing the text, but evoking it with a poster that is made only of text, black on white.
Since the message to be communicated through the poster is really important, I think there is no need of anything else except the text of the message itself, graphically rendered in a way that is visually strong, clear, and impactful.
Proportions, alignments, sizes, and positions among the letters have been carefully calibrated by designing a modular grid system made of a maximum of 112.000 micro-modules that allowed to build the entire typographic geometry in a very accurate and rigorous way.
The result, I think, is a poster supporting freedom of women in a powerful and straightforward way, visually making no compromises about the importance of the message and the need for this fight.
—Nicola-Matteo Munari
Client
Woman,Life,Freedom
Movement

Promoter
Morteza Majidi

Design
Nicola-Matteo Munari

Assistant
Daniela Arabia

Project Date
2022