ArchivioUniFor | Aldo Rossi
Promotional graphics for the introduction of Aldo Rossi's furniture re-editions by ArchivioUniFor.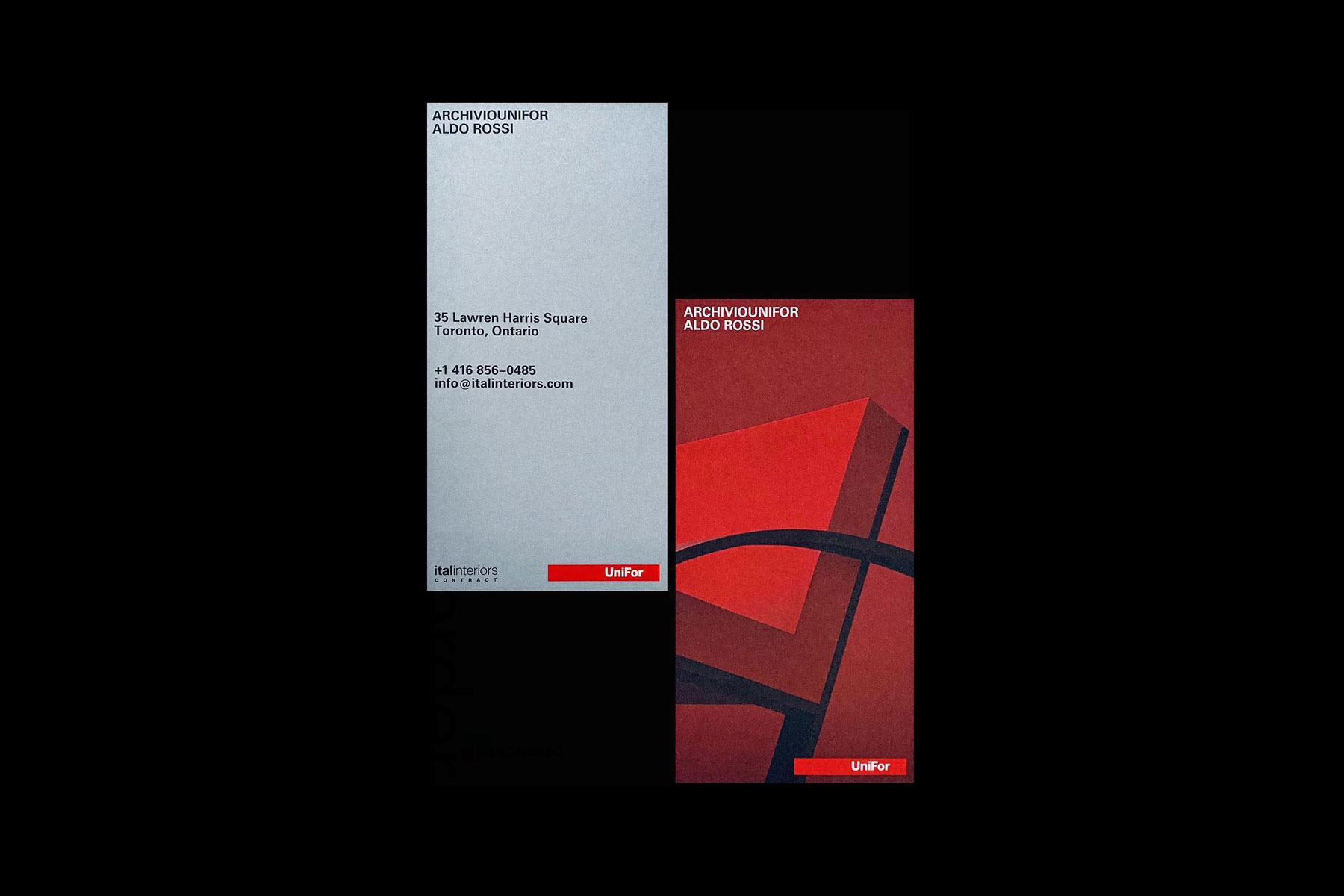 A flyer that was distributed in Canada
at the Toronto Film Festival.
Ph. © Nicola-Matteo Munari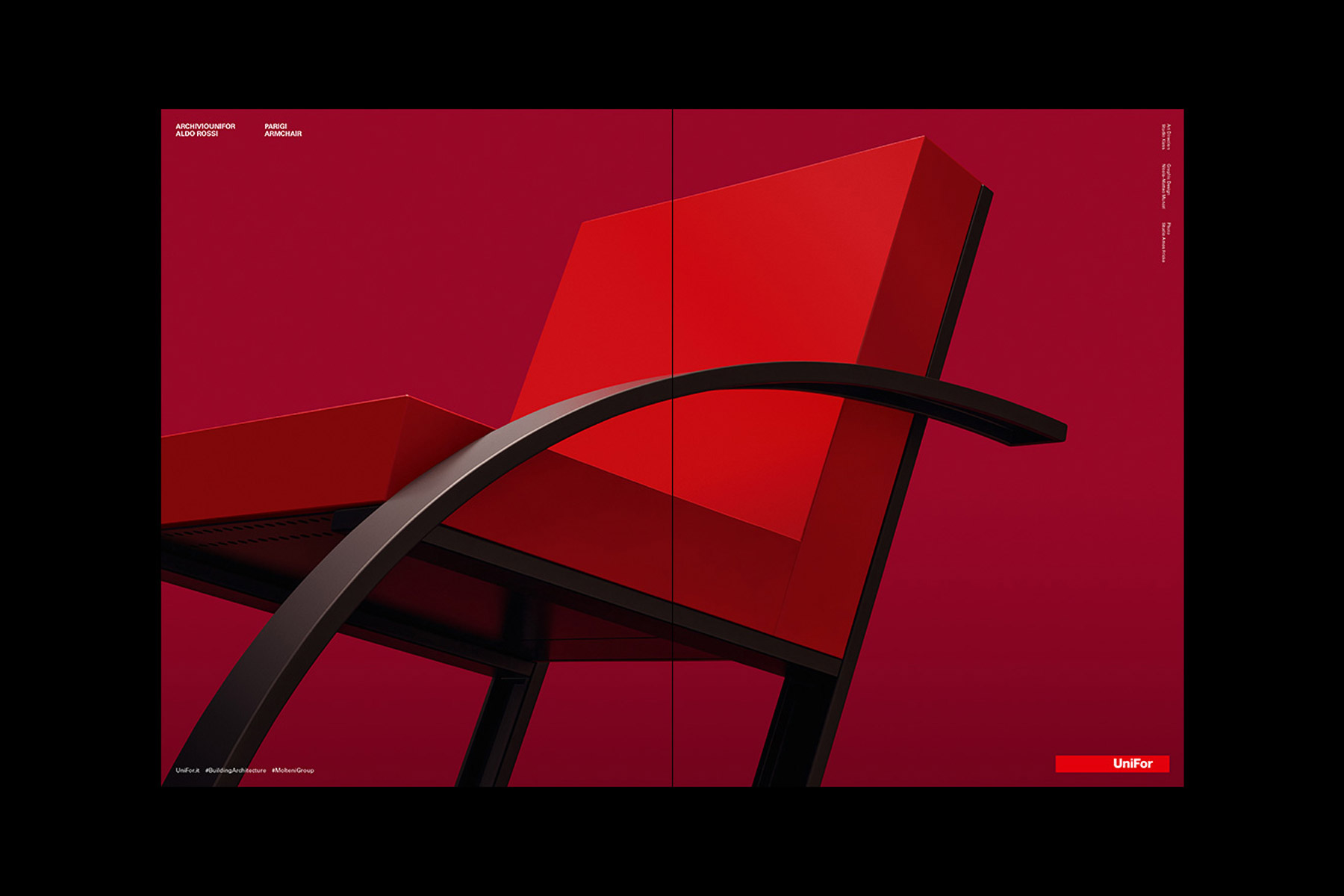 Advertisement for Domus magazine
and M&C, Molteni&C's house organ.
2021 © Nicola-Matteo Munari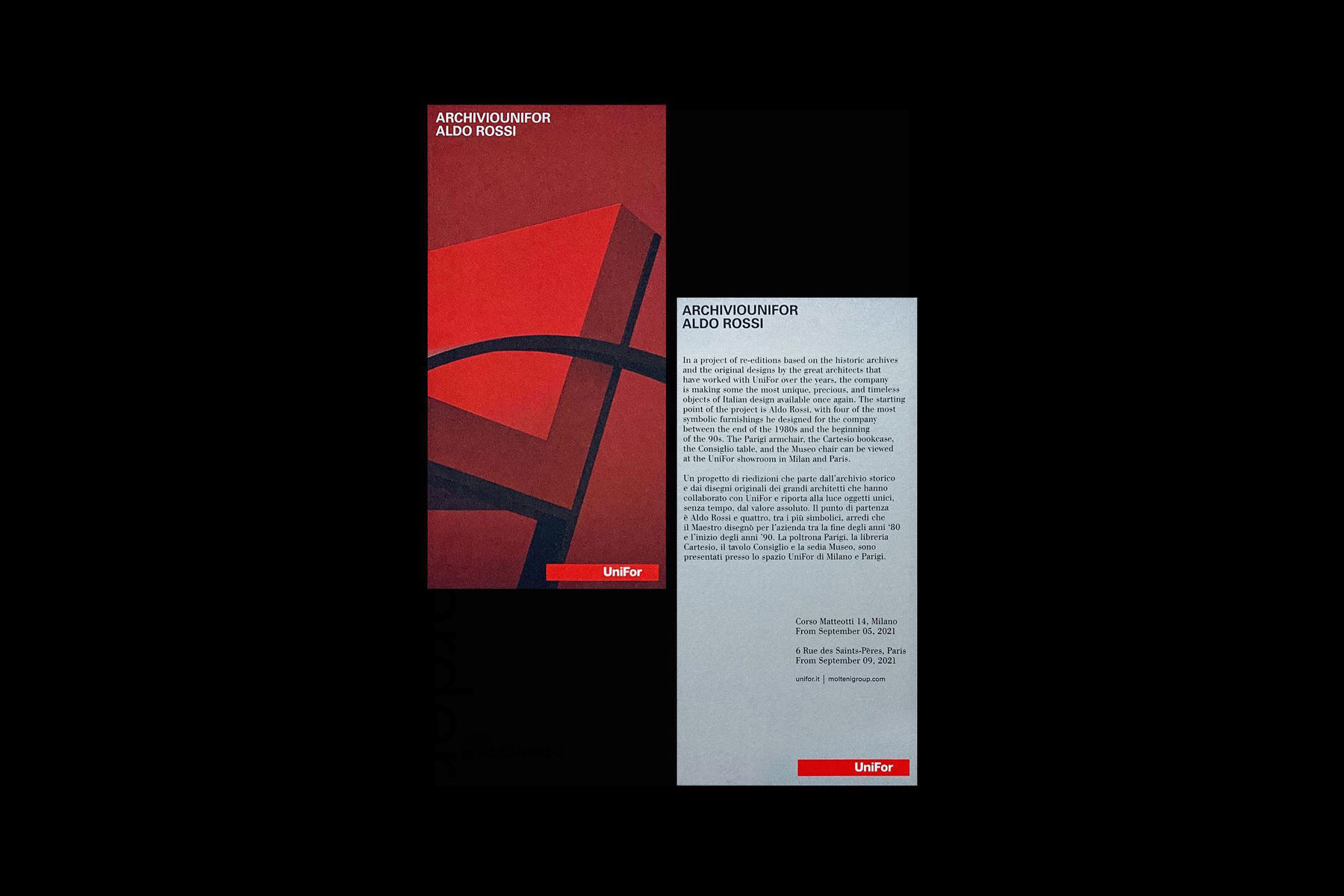 A flyer distributed at the Teatro
degli Arcimboldi of Milan.
Ph. © Nicola-Matteo Munari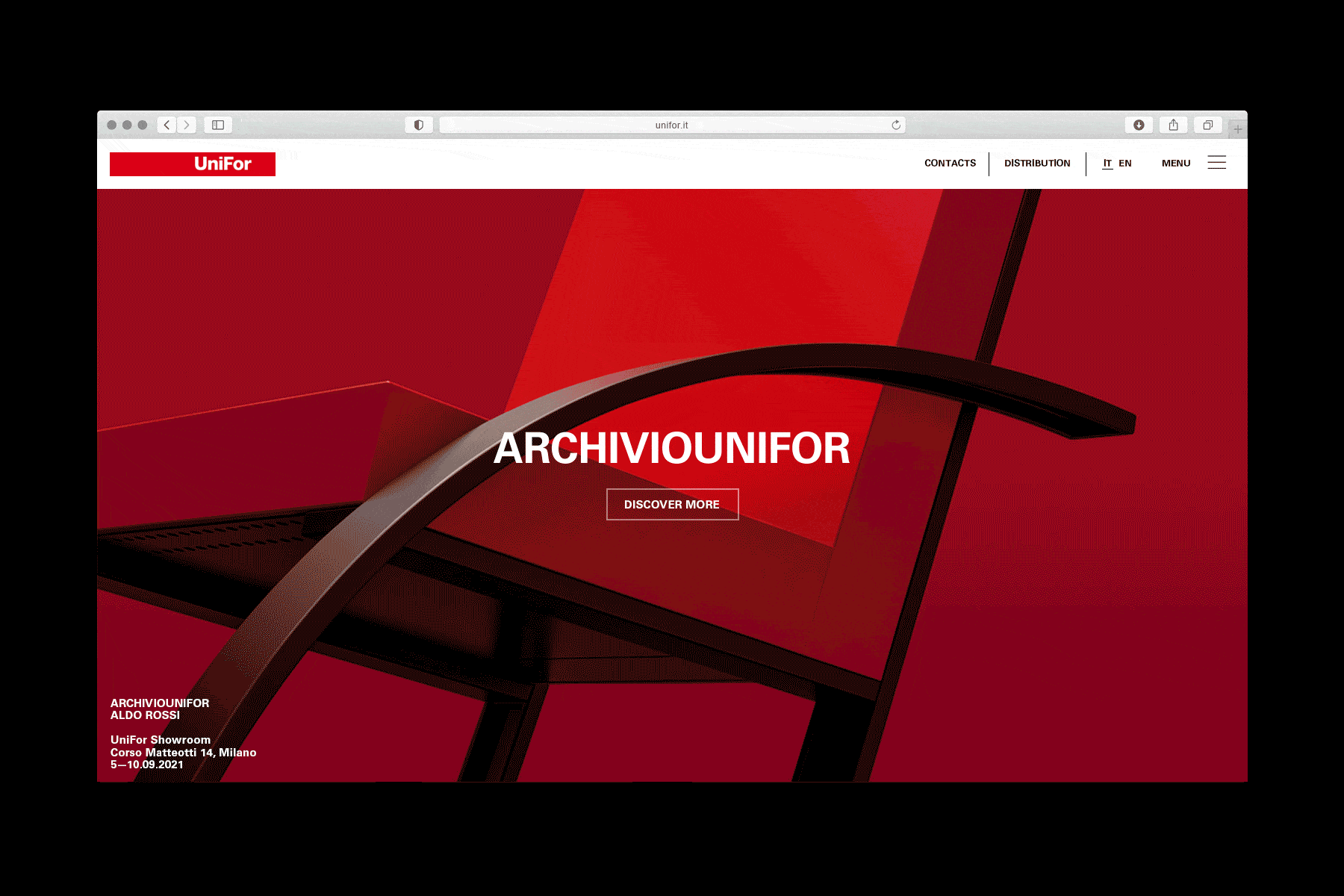 Graphic design for the cover
of UniFor's website.
2021 © Nicola-Matteo Munari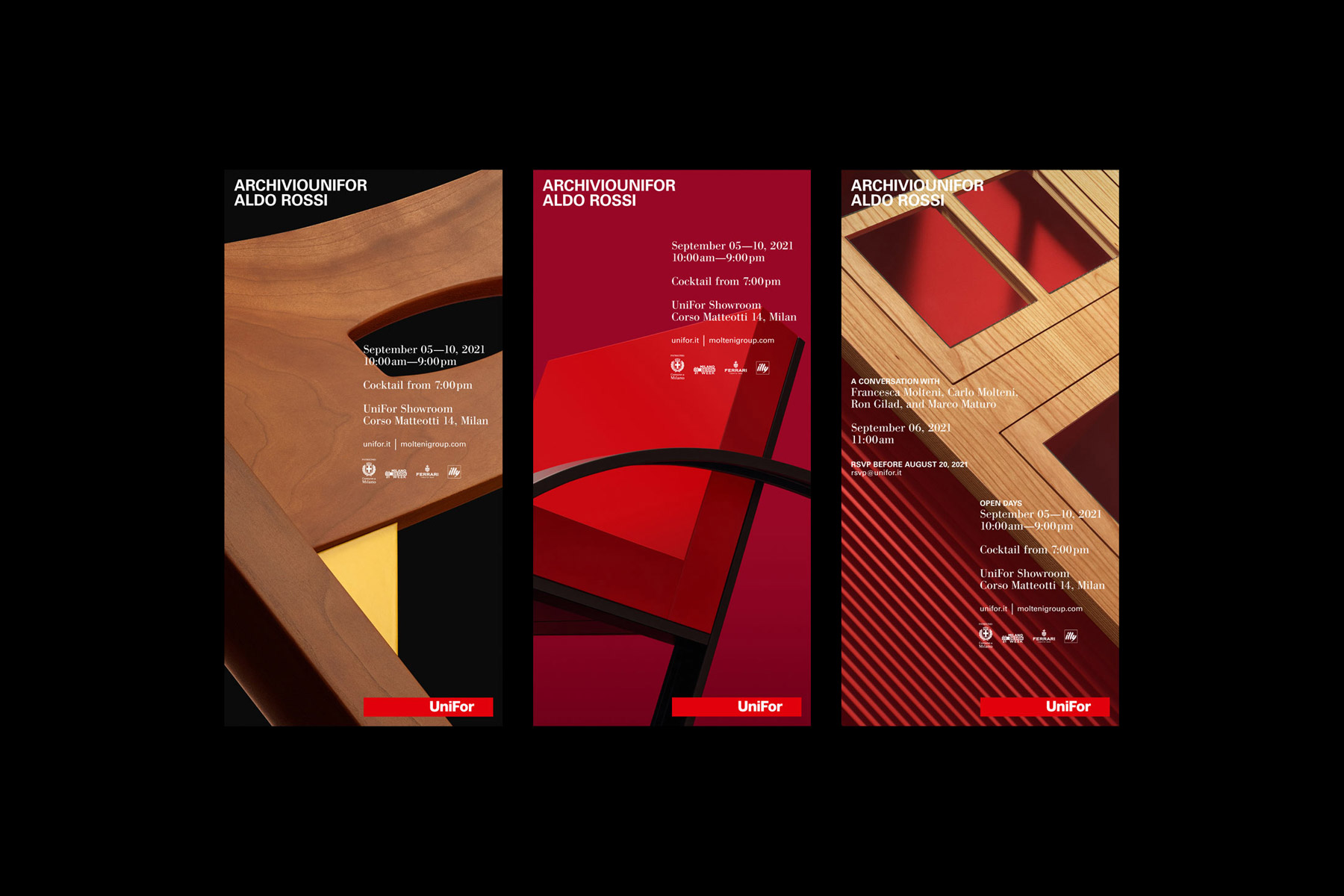 A few examples from the invitation
series designed for the Milano Design Week and the Paris Design Week.
2021 © Nicola-Matteo Munari
On the occasion of the 2021 Milano Design Week it was officially presented the first collection of ArchivioUniFor—a new brand dedicated to the re-edition of historical furniture once made by UniFor, one of the most important companies in the world working in the fields of workspace design and office furniture.
UniFor is internationally known for its collaborations with some of the most acclaimed architects in the world, including Aldo Rossi, David Chipperfield, Renzo Piano, Álvaro Siza, Norman Foster, Jean Nouvel, Angelo Mangiarotti, OMA, Herzog & de Meuron, and many others.
ArchivioUniFor is dedicated precisely to the re-edition of historic furniture that was designed by some of the architects with whom the company collaborated in the past.
The first series is made of five pieces by Italian architect Aldo Rossi (1931–1997)—the iconic Parigi armchair, Cartesio bookcase, Consiglio table and Museo chair, this one in the version with (Museo/C) or without (Museo/S) the armrests.
To promote the introduction of the new collection numerous informational and promotional materials have been designed, including a catalogue, the ads for Domus magazine, M&C house organ and the major Italian national newspapers—Repubblica, Corriere della Sera, Sole 24 Ore—as well as graphics for the press releases, website cover, newsletter, email signature and flyers that have been distributed at the Toronto Film Festival and the Paris Design Week, where the collection was also presented.
Most of the promotional materials feature the Parigi armchair, emphasising the graphicness of its iconic shape, using the same finishes and colours—red and silver, plus black and white—that characterise the integrated graphics that was designed for ArchivioUniFor, thus producing an effective and consistent visual ensemble.
—Nicola-Matteo Munari
Client
ArchivioUniFor | UniFor

Design
Nicola-Matteo Munari

Design Assistant
Jana Stürmlin

Photo
Studio Amos Fricke

Art Direction
Studio Klass

Print
ArtiGraficheTurati

Project Date
2021